All photos available to purchase from Brian Branch Price, and are also tax deductible >
The village Gomoa Tekyiam was hit by a devastating flood that left many homeless and without food and clean drinking water. Since the flood, villagers have been sick with water-born illnesses. There is no clinic in the vicinity where villages can go to for medical check-ups. Also the bridge to the local school was wiped out, requiring the children to walk to a temporary site miles away from their village. Obaatan has intervened to render assistance to the village. A medical screening was set up last fall and pharmaceutical supplies and bottled water were provided to the community to help get them back on their feet. Click here to read more about the project.


---
Obaatan's new project, the building of the Obaatan House for orphans and other disadvantaged souls, will give them hope. It will be a training center and a transition into a better life. Click here for more information on the upcoming Ground Breaking Ceremony, and to see how you can help.
---
At this time, children from some villages in Bawku attend school under a tree. Obaatan has been able to provide aid by organizing and founding a school. Land has been purchased, blueprints drawn, and a foundation has been laid. Through this early education Obaatan hopes to begin eradicating illiteracy and extreme poverty in the area and show the children the love of Christ. Currently, Obaatan is in the process of raising funds to finish construction on the school building.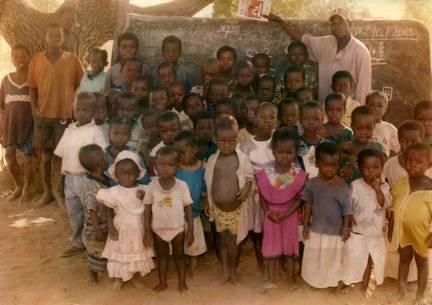 ---
"Disability is not inability" is a descriptive motto for the paraplegic woman in the blue-black dress. Obaatan has been able to provide her with a weaving loom upon which she can create "kente" cloth. Despite being limited to the use of one machine due to her disability she is still able to teach others. This determination encourages other women as she trains them for a self-sufficient occupation. As this woman was given a gift, she passes another gift along. These acts construct a path which inspires self-esteem, financial independence, and a strong sense of community.



| | |
| --- | --- |
| | |
| | Photographed 2005 |
---
The Denug-u Maltaba Women's group has benefited with monetary aid from the "Obaatan Mobilization Against Poverty" (OMAP), enabling them to conduct a farming project. They were able to use the money for dry season onion farming and had a very good harvest. We are praying and hoping that they are given the ability to obtain more land. Obaatan is committed to self-sustainable communities and their economic growth.